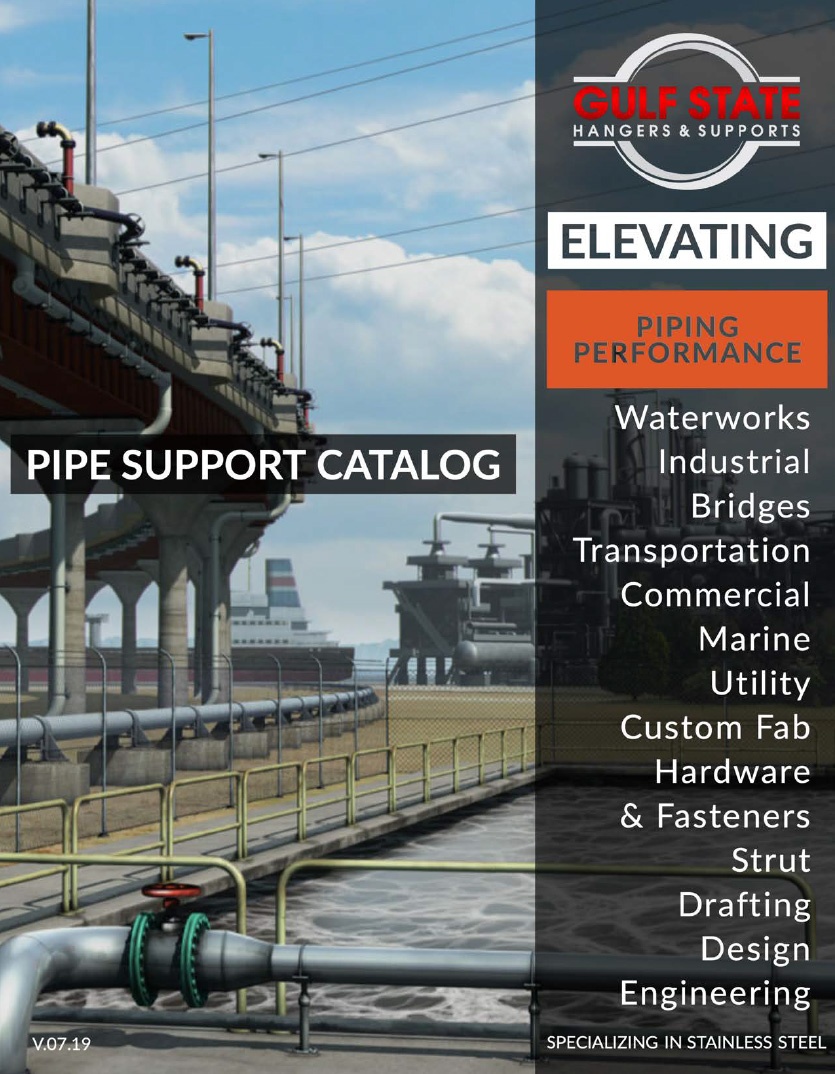 Gulf State Pipe Hangers & Supports Launches Corporate Branding Initiative
New Comprehensive Gulf State Piping Products Catalog and Website
(Theodore, AL – October 3, 2019) Gulf State Hangers & Support Manufacturers, Inc. has launched a corporate branding program that celebrates and defines the company's growth as a market-leading source for quality pipe support products. Gulf State's new tagline, 'Elevating Piping Performance', focuses on the manufacturer's ongoing product development and custom fabrication efforts to improve life-cycle performance of piping and conduit systems. Gulf State's experienced staff and network of manufacturers representatives and distributors provide the technical support necessary to elevate and assure product capabilities that effectively meet project requirements.
The marketing initiative includes a comprehensive new catalog that contains hundreds of quality pipe supports, hangers and accessories. The catalog's cover combines many of Gulf State's construction markets in a single digitally-painted environment. The art presents piping and conduit support products in utility, industrial, commercial, transportation, bridge, waterworks and marine applications. Gulf State's website also incorporates the new branding and provides improved access to detailed product specifications, custom engineering capabilities and accessories such as strut, concrete embeds, and pipe insulation products.
For more than four decades, Gulf State has designed, manufactured and distributed pipe and conduit supports, hangers, struts, fasteners, hardware and accessories. Today, the company maintains a large inventory of supports necessary for infrastructure construction including specialty supports for fiberglass, PVC, ductile iron and steel pipe; bridge conduit and drain systems; and large diameter FRP process piping applications. "Our team provides a wide selection of standard and custom-configured stainless steel and carbon steel pipe hangers, supports and fabricated metal shapes," notes Kent Gruber, Business Development Manager, Gulf State Hangers & Support Manufacturers, Inc. The company also offers galvanizing and coating services for its pipe support products.
"In addition to our full catalog of standard products, the Gulf State team designs and fabricates custom hangers and supports for client-specified piping and conduit systems," said Karen Lewis, President and CEO, Gulf State Hangers & Support Manufacturers, Inc. The company, based in Theodore, Alabama, also offers piping and support stress calculations and construction layouts through its network of engineer partners. Gulf States manufactured products are produced in the United States and shipped to locations throughout North America and worldwide.
About Gulf State Hangers & Supports
Gulf State Hangers & Support Manufacturers, Inc. is a producer and supplier of standard and custom-designed pipe hangers, engineered pipe supports and piping hardware. Gulf State ships to locations worldwide from a manufacturing facility near Mobile, Alabama. (gshangers.com)
Media Contact
Kent Gruber
Business Development Manager, Gulf State Hangers & Support Manufacturers, Inc.
phone: 704.502.4342 (US +1)
email: kent@gshangers.com