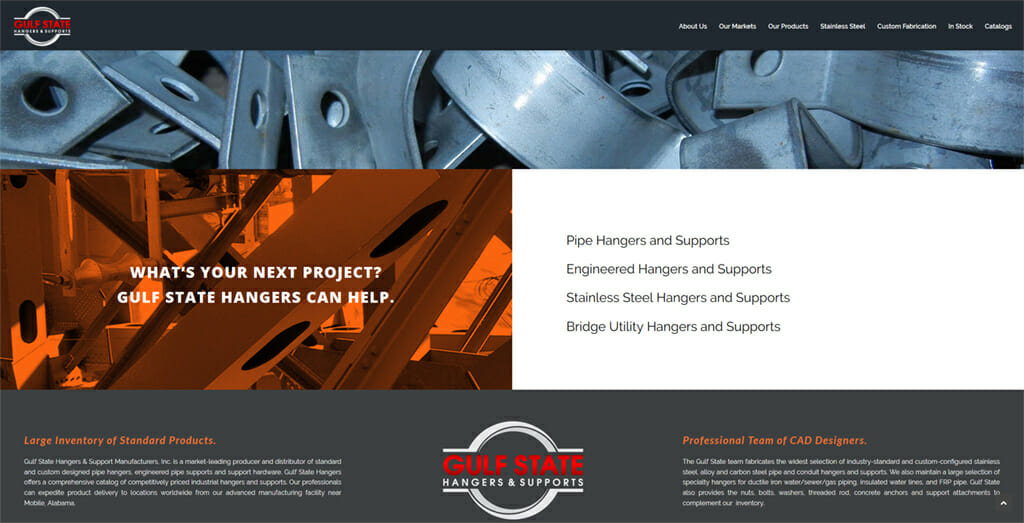 INTRODUCING THE NEW GSHANGERS.COM
INTRODUCING THE NEW  GSHANGERS.COM
FROM GULF STATE
HANGERS AND SUPPORTS MANUFACTURERS COMPANY, INC.
Our newly launched website is intended to be faster, multi-device friendly, provide more intuitive navigation and offer extensive resources for our sales channel partners and engineering customers. The reconfigured site includes catalogs, company news, technical data, and pictorial indexes of our portfolio of products including:
Pipe Supports and Hangers
Engineered Pipe Supports
Concrete Inserts and Embeds
Threaded Rod, Fasteners and Hardware
Clamps and Brackets
Pipe Guides, Shoes and Anchors
Custom Fabrication and Welding
FRP Grid Hangers for Bridge Conduit
Engineering and Design Support
About Gulf State
Gulf State is a market leading manufacturer and distributor of standard and custom pipe supports, pipe hangers, engineered products and installation hardware. We produce in alloy, carbon steel, and specialize in stainless steel; and maintain a large inventory of products for use with ductile iron water and sewer pipe, gas pipelines, industrial and chemical piping and bridge drain and utility conduit systems. Please check back frequently as our website continues to improve.
Contact: Karen Lewis, President and CEO – Phone: (251) 653-6228; Email: Karen@gshangers.com